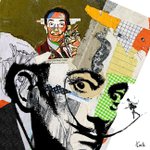 michelkeck
Hi! I am Michel Keck an abstract artist and design brand owner. I am most recognized for my brightly patterned animal collage works, and abstract scripture works with my signature hand scrawled typography. My works have been in such retail stores like Nordstroms, Tuesday Mornings, Bed Bath & Beyond and KARE, as well as on my Society6 shop. My works have been seen on hit television shows such as Archer and House Hunters International and the motion pictures Chappie and The Longest Ride.
All of my artworks on my website www.keckfineart.com can be customized for any product available here on Society6 so if you don't find the Keck art piece you are looking for simply contact us at sales@keckfineart.com with full details of the art piece you want and the product you want to purchase it on and we will get it listed here for you straight away.
Thank you for stopping by!
Michel Keck www.keckfineart.com
Read more
Tech by michelkeck
291 results
Filter