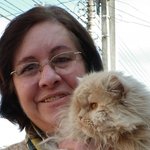 Michelle Behar
Born in Guatemala (1955), now a Brazilian citizen. Studied Fine Arts in Universidad de San Carlos de Guatemala (1974) and in the National School of Plastic Arts in Geneva, Switzerland (1975) Course of Engraving at the Lassar Segal Museum in São Paulo, SP. (1976). Studied Digital Painting with Celito Medeiros in Curitiba, PR, Brazil (2002).
Teached Linoleum cut and Lithography at the Engraving House of Solar do Barão in Curitiba PR, Brazil. Teacher of extension courses of engraving at the Federal University of Parana, Curitiba, Brazil. Gives Computer Painting courses.
She participated in several collective and individual expositions in Brazil, Central America and USA. Currently she works as teacher, painter, printmaker and children book illustrator.
Portfolio: http://michbehar.carbonmade.com/
Site: http://mbailustracion.multiply.com/
Facebook: http://www.facebook.com/pages/Michelle-Behar-Ilustra%C3%A7%C3%A3o/192720237432563
Read more
Michelle Behar's Store
Filter