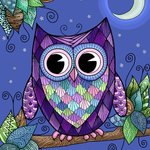 Michelle Bowden Art
My mother is an artist, and I followed in her footsteps. I took art classes in school and in college. When I became a mother myself, I quit drawing for many years. Now that my children are grown up, I have begun to draw again. I didn't realize how much I missed it. I now enjoy drawing almost every day. I mostly do digital drawing on the iPad and computer, but I also use and enjoy working in traditional media. My Facebook Page: https://www.facebook.com/MichelleBowdenArt My Society6 Shop: http://society6.com/michellebowden My Etsy Shop: https://www.etsy.com/shop/MichelleBowdenArt My Redbubble Shop: www.redbubble.com/people/michellebowden My Zazzle Shop: http://www.zazzle.com/michelle_bowden_art Michelle Bowden Art joined Society6 on July 5, 2014
More
My mother is an artist, and I followed in her footsteps. I took art classes in school and in college. When I became a mother myself, I quit drawing for many years. Now that my children are grown up, I have begun to draw again. I didn't realize how much I missed it. I now enjoy drawing almost every day. I mostly do digital drawing on the iPad and computer, but I also use and enjoy working in traditional media.
My Facebook Page: https://www.facebook.com/MichelleBowdenArt My Society6 Shop: http://society6.com/michellebowden My Etsy Shop: https://www.etsy.com/shop/MichelleBowdenArt My Redbubble Shop: www.redbubble.com/people/michellebowden My Zazzle Shop: http://www.zazzle.com/michelle_bowden_art
Michelle Bowden Art joined Society6 on July 5, 2014.