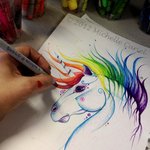 Michelle Curiel
Michelle's work is regularly exhibited in galleries throughout Southern California, including the world famous Bergamot Station in Santa Monica, CA. She has donated her work to organizations such as the Children's Art Village in Los Angeles, CA, and the Transplant Foundation in Miami, FL. She worked as a volunteer in the Free Arts for Abused Children, a non-profit organization devoted to homeless and abused children. One of her most treasured experiences was teaching art to a large group of children on Perhentian Island in Malaysia. The course finished with an exhibit featuring all of the works created by the children.
Michelle Curiel's artistic passion began at a very young age. Like other children, she was given crayons and a coloring book. But for Michelle, the process of transforming white space with strokes of beautiful color left an indelible impression. Art quickly became a lifetime passion.
Michelle is constantly inspired by the beauty of her surroundings and life experiences, so much that she finds herself regularly taking photos of whatever subject that catches her eye and captures her heART. Through art, she is able to express her innermost thoughts and feelings. She lives by the belief that "Beauty is always within us regardless of undesirable circumstances that may occur. This beauty is love, creativity and inspiration. It is with you at all times when you look for it with your heART."
Michelle's favorite mediums include acrylic paint, colored pencils and pen. "When I begin a drawing or painting, I clear my thoughts and have no end result in mind. This process frees me of filtering, censoring and judgment. I place color wherever it may land. Images appear and ask me to develop them and bring them to life."
Michelle is currently working on various creative projects, including illustrating a children's book, fashioning alternative clothing for art festivals & designing feather jewelry and accesories for boutique sales.
Michelle Curiel was born and raised in Southern California. She currently lives in Los Angeles, California.
Read more
Michelle Curiel's Store
Filter