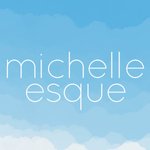 michelleesque
Hello, my name is Michelle. I am a dreamer, a designer, and an artist. I like to write on the side, bake, cook, and draw. I enjoy just about every aspect of life including sharing laughter, finding happiness in everything, and building an enjoyable future for myself and for my significant other. Currently I am raising money to fund myself through grad school to pursue a degree in textile design (fashion design). Website: http://www.michellehuynhdesigns.com Blog: http://www.michelleesque.com Twitter http://www.twitter.com/ahoymichelle michelleesque joined Society6 on August 5, 2013
More
Hello, my name is Michelle. I am a dreamer, a designer, and an artist. I like to write on the side, bake, cook, and draw. I enjoy just about every aspect of life including sharing laughter, finding happiness in everything, and building an enjoyable future for myself and for my significant other. Currently I am raising money to fund myself through grad school to pursue a degree in textile design (fashion design).
Website: http://www.michellehuynhdesigns.com Blog: http://www.michelleesque.com Twitter http://www.twitter.com/ahoymichelle
michelleesque joined Society6 on August 5, 2013.