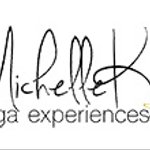 Michelle K Yoga
Michelle is a Minnesota based Yoga teacher and spiritual seeker. She is a mama to two teenagers and one pre-teen. After a long corporate career and then 7 years owning a retail store, Michelle sold her store and became a stay-at-home mom. While her husband makes a living, she makes life worth living. She loves cooking but hates cleaning. She loves to garden but says she has a black thumb. Wine and coffee are her beverages of choice and she never goes to movies because she always falls asleep. Connect with her online: http://www.michellekyoga.com https://www.instagram.com/michellek.yoga/ https://www.facebook.com/michellekyoga/ Michelle K Yoga joined Society6 on June 12, 2016
More
Michelle is a Minnesota based Yoga teacher and spiritual seeker. She is a mama to two teenagers and one pre-teen. After a long corporate career and then 7 years owning a retail store, Michelle sold her store and became a stay-at-home mom. While her husband makes a living, she makes life worth living. She loves cooking but hates cleaning. She loves to garden but says she has a black thumb. Wine and coffee are her beverages of choice and she never goes to movies because she always falls asleep. Connect with her online:
http://www.michellekyoga.com https://www.instagram.com/michellek.yoga/ https://www.facebook.com/michellekyoga/
Michelle K Yoga joined Society6 on June 12, 2016.