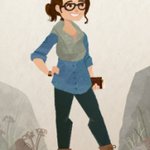 Michelle McGaughey
Michelle McGaughey is an animator and illustrator from Cape Cod, Massachusetts. A graduate of Montserrat College of Art, she has a Bachelor of Fine Arts in Animation and Interactive Media with a minor in creative writing. She has a passion for visual story telling, character design and books. Michelle is currently a gallery manager/barista at Atomic Cafe and a creative consultant for The Puppetree Company. So far she has self-published one book-- "The Atomic Sketchbook" -- and is hoping to produce more and break into either children's pictures books or television. Michelle McGaughey joined Society6 on June 8, 2014
More
Michelle McGaughey is an animator and illustrator from Cape Cod, Massachusetts. A graduate of Montserrat College of Art, she has a Bachelor of Fine Arts in Animation and Interactive Media with a minor in creative writing.
She has a passion for visual story telling, character design and books. Michelle is currently a gallery manager/barista at Atomic Cafe and a creative consultant for The Puppetree Company. So far she has self-published one book-- "The Atomic Sketchbook" -- and is hoping to produce more and break into either children's pictures books or television.
Michelle McGaughey joined Society6 on June 8, 2014.