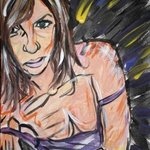 Michelle Renee Artistry
Michelle Renee has always been a very imaginative individual with a passion for the arts. Whether she is painting on a canvas or creating a striking complexion, she always finds a way to manifest her vision.
Michelle started to excel artistically at a very young age and continued to pursue her passion throughout adulthood. She graduated from California State University, Northridge where she took various art classes which helped cultivate her natural abilities.
Michelle regularly creates privately commissioned paintings that are uniquely designed with color and bold images. Her medium of preference is acrylic as well as watercolor, and most of her work is one / two-dimensional. Her art is particularly remarkable because she uses intricate designs and patterns while using the levity of color. This particular style is what sets her apart from all the rest.
Her artistic skills as well as her desire to pursue make-up artistry have always coincided and her ability to observe and recreate has lead her to excel in both fields.
Michelle draws from all facets of the makeup industry, but is especially inspired by the works of Kevyn Aucoin, Bobbi Brown, and Scott Barnes. She possesses a keen eye for aesthetics and has an effortless gift of enhancing natural beauty at its most bare state. Her attention to detail and understanding of facial contouring has shown to be a notable element of her skills. She enjoys working with a wide range of clientele and specializes in beauty, fashion, film, editorial, commercial, and wedding makeup artistry.
Read more
Michelle Renee Artistry's Store
200 results
Filter