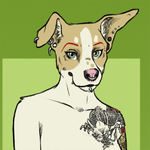 Mickeyila Studios
I'm Michaela, also known by the aliases 'Kai' or 'Mickeyila'; a 25 year old New Zealand based artist. I moved to New Zealand from England in July 2012. I do freelance illustration and also make animations occasionally. I'm passionate about animals, which are the main focus of my art. I specialize in digital mediums, though I am competent with traditional as well. The subject areas that I specialize in are animal, fantasy and anthro/furry artwork, as well as the human form. My work ranges from being suitable for young audiences, up to adult erotica. I have more products available at my redbubble store also: http://www.redbubble.com/people/mickeyila Mickeyila Studios joined Society6 on December 4, 2014
More
I'm Michaela, also known by the aliases 'Kai' or 'Mickeyila'; a 25 year old New Zealand based artist. I moved to New Zealand from England in July 2012. I do freelance illustration and also make animations occasionally. I'm passionate about animals, which are the main focus of my art.
I specialize in digital mediums, though I am competent with traditional as well. The subject areas that I specialize in are animal, fantasy and anthro/furry artwork, as well as the human form. My work ranges from being suitable for young audiences, up to adult erotica.
I have more products available at my redbubble store also: http://www.redbubble.com/people/mickeyila
Mickeyila Studios joined Society6 on December 4, 2014.