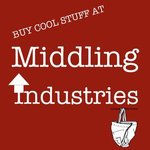 Middling Industries
Books. Apps. Merchandises. & Cats. Middling Industries is the owner and creator of "Haee and the other middlings". We tell stories and dreams of middling men and women (cats too!). Taken from the award winning book series, the main protagonist Haee, is a middling cat, living in a middling city. We aim to live each day simply better than the one after it.
Middlings live among us but essentially feel apart from it all. They often ask themselves this: "Are we not as happy as those who are much better off in this world?"
For more information, please visit www.middlingindustries.com. Follow cat Haee on Facebook, Twitter and Pinterest @catHaee. Watch book trailers at www.youtube.com/middlingindustries.
Read more
Middling Industries's Store
Filter