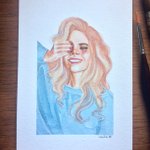 Mieko
Hello. I'm Mieko, 26, an art illustrator based in São Paulo, Brazil. I was born in a small town (Minas Gerais) but moved when 18 to study fashion design at one of the best schools of fashion in Latin America. Then i discovered drawing as my biggest love. It became part of my job, 'cause two years later working at the industry, i still found some time to work on it. And I love to play with textures and colors! When I`m not drawing my lovely and strong woman, I`m probably enjoying some nature to get my color references or playing with my dogs! Thanks a lot for checking my work :* drop a line & say me hello at mieko.ca@gmail.com Mieko joined Society6 on January 24, 2014
More
Hello. I'm Mieko, 26, an art illustrator based in São Paulo, Brazil. I was born in a small town (Minas Gerais) but moved when 18 to study fashion design at one of the best schools of fashion in Latin America. Then i discovered drawing as my biggest love. It became part of my job, 'cause two years later working at the industry, i still found some time to work on it. And I love to play with textures and colors!
When Im not drawing my lovely and strong woman, Im probably enjoying some nature to get my color references or playing with my dogs!
Thanks a lot for checking my work :* drop a line & say me hello at mieko.ca@gmail.com
Mieko joined Society6 on January 24, 2014.