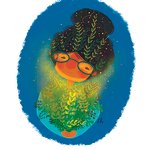 mighty Pigeon
MightyPigeon (originally "greenstarstudio") began in 1998, as the illustration & painting studio of danamarie hosler, a then junior at the maryland institute college of art. over the years, it grew to encompass a whole world of decorative and functional art pieces, prints, wearables, dolls and more, all designed with children in mind & using ecologically responsible methods and materials. recently, her Under Appreciated Animals series found massive success on Kickstarter & thanks to generous backing, can now be found in the form of playing cards & flash cards (buttons, stickers, coloring books, plush and more!). today, MightyPigeon is the umbrella company that covers *might (mighty good & full of possibility: handmade wonder for all ages) and the small craft advisory (ecologically responsible & sustainably produced beautiful things for your beautiful life)…. and danamarie is very busy with them all… she's also very busy keeping her toddler out of the trash. danamarie lives in baltimore, md (but dreams of portland, me) with her wonderful husband and their amazing little boy (and their very naughty long haired miniature dachshund). find the entire Under Appreciated Animals series & more: http://www.mightyPigeon.etsy.com like plush?: http://www.mightSHOP.etsy.com shop for your home: http://www.thsmallcraftadvisory.etsy.com www.danamariehosler.com mighty Pigeon joined Society6 on September 20, 2012
More
MightyPigeon (originally "greenstarstudio") began in 1998, as the illustration & painting studio of danamarie hosler, a then junior at the maryland institute college of art. over the years, it grew to encompass a whole world of decorative and functional art pieces, prints, wearables, dolls and more, all designed with children in mind & using ecologically responsible methods and materials.
recently, her Under Appreciated Animals series found massive success on Kickstarter & thanks to generous backing, can now be found in the form of playing cards & flash cards (buttons, stickers, coloring books, plush and more!).
today, MightyPigeon is the umbrella company that covers *might (mighty good & full of possibility: handmade wonder for all ages) and the small craft advisory (ecologically responsible & sustainably produced beautiful things for your beautiful life)…. and danamarie is very busy with them all… she's also very busy keeping her toddler out of the trash.
danamarie lives in baltimore, md (but dreams of portland, me) with her wonderful husband and their amazing little boy (and their very naughty long haired miniature dachshund).
find the entire Under Appreciated Animals series & more: http://www.mightyPigeon.etsy.com
like plush?: http://www.mightSHOP.etsy.com
shop for your home: http://www.thsmallcraftadvisory.etsy.com
www.danamariehosler.com
mighty Pigeon joined Society6 on September 20, 2012.