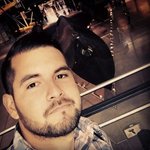 Miguel Angel Illustrations
Miguel Angel was born in Ecuador. At the age of 12 he moved to United States looking for a better and brighter future. He studied design in Boston. He enjoys computer art, water colors, prisma colors and pencil. His favorite hobby is Futbol, enjoys coaching the beautiful game as well as playing it. "Sucess is no accident. It is hard work, perseverance, learning, studying, sacrifice and most of all, love of what you are doing or learning to do" ― Pelé Miguel Angel Illustrations joined Society6 on February 26, 2015
More
Miguel Angel was born in Ecuador. At the age of 12 he moved to United States looking for a better and brighter future. He studied design in Boston. He enjoys computer art, water colors, prisma colors and pencil. His favorite hobby is Futbol, enjoys coaching the beautiful game as well as playing it.
"Sucess is no accident. It is hard work, perseverance, learning, studying, sacrifice and most of all, love of what you are doing or learning to do" ― Pelé
Miguel Angel Illustrations joined Society6 on February 26, 2015.
Miguel Angel Illustrations's Store
67 results
Filter