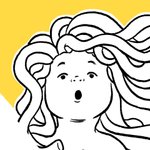 Mika Senda
I'm Mika Senda, an Illustrator from Vancouver, Canada. A childhood in Japan informed my sense of humour and esthetic, leading me to explore artistic boundaries. Today, I toy with playful themes, soft colours, simples lines, and charming figures. Preferring digital media, my goal is to create art everyday, even when I don't have an end product in mind. I attempt to capture joy and happiness and often draw things that feel silly or whimsical. https://www.instagram.com/mikasenda/ www.mikasendaillustration.com Mika Senda joined Society6 on September 27, 2017
More
I'm Mika Senda, an Illustrator from Vancouver, Canada. A childhood in Japan informed my sense of humour and esthetic, leading me to explore artistic boundaries. Today, I toy with playful themes, soft colours, simples lines, and charming figures. Preferring digital media, my goal is to create art everyday, even when I don't have an end product in mind. I attempt to capture joy and happiness and often draw things that feel silly or whimsical.
https://www.instagram.com/mikasenda/ www.mikasendaillustration.com
Mika Senda joined Society6 on September 27, 2017.