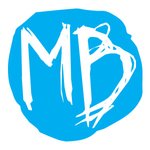 Mike Brennan
Mike Brennan is a New Jersey based, multifaceted artist. A graphic designer by trade, he also creates works in watercolor, mixed media, and photography. Mike attended the Fashion Institute of Technology receiving a Advertising and Design AAS degree in 1991, as well as attending The School of Visual Arts graduating in 1994 with a Graphic Design/3D illustration BFA degree. During this time he had a life sized dog biscuit skeleton sculpture "Mikebone", based on the work of Jean-Michel Basquiat, on display at the Whitney Museum, as well as other works included in the NY Art Directors club. He spent several years in advertising and editorial design roles before joining the non-profit world. It was here that Mike was able to combine his love for art, people and his faith into work that sought to make a difference in the lives of other people. Mike believes that art should benefit and enrich the lives of others. His philosophy is that Art is a gift, to be given and to be shared. His love for people is evident in his work in themes of the human figure, as well as animals. Mike's style is loose and organic seeking to communicate a sense of freedom, joy and play. His color palette is often vibrant, influenced by the Pop Art movement. Mike has had recent work on display at the Printmaking Center of NJ, the Flemington Library, and received First Place in the Mixed Media category at the Hunterdon County Library outdoor art show. He recently completed 365 days of daily drawings/paintings project in April of 2014 and frequently engages others in his art via social media such as in his 100 day project of sketching Instagram photos from his feed using only his iPhone. Mike Brennan joined Society6 on March 24, 2014
More
Mike Brennan is a New Jersey based, multifaceted artist. A graphic designer by trade, he also creates works in watercolor, mixed media, and photography.
Mike attended the Fashion Institute of Technology receiving a Advertising and Design AAS degree in 1991, as well as attending The School of Visual Arts graduating in 1994 with a Graphic Design/3D illustration BFA degree. During this time he had a life sized dog biscuit skeleton sculpture "Mikebone", based on the work of Jean-Michel Basquiat, on display at the Whitney Museum, as well as other works included in the NY Art Directors club. He spent several years in advertising and editorial design roles before joining the non-profit world. It was here that Mike was able to combine his love for art, people and his faith into work that sought to make a difference in the lives of other people.
Mike believes that art should benefit and enrich the lives of others. His philosophy is that Art is a gift, to be given and to be shared. His love for people is evident in his work in themes of the human figure, as well as animals. Mike's style is loose and organic seeking to communicate a sense of freedom, joy and play. His color palette is often vibrant, influenced by the Pop Art movement.
Mike has had recent work on display at the Printmaking Center of NJ, the Flemington Library, and received First Place in the Mixed Media category at the Hunterdon County Library outdoor art show. He recently completed 365 days of daily drawings/paintings project in April of 2014 and frequently engages others in his art via social media such as in his 100 day project of sketching Instagram photos from his feed using only his iPhone.
Mike Brennan joined Society6 on March 24, 2014.