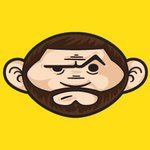 Mike Handy Art
I'm a professional graphic designer with a lifelong background in fine art, but my true love has always been illustrating really weird and random things. Combined with my love for geeky pop culture, I decided to pursue a career in illustration as it seemed like the perfect showcase for all the strange ideas rolling around in my head. Website: http://www.mikehandyart.com Redbubble Store: http://www.redbubble.com/people/mikehandyart Teepublic Store: https://www.teepublic.com/user/mikehandyart Facebook: http://www.facebook.com/mikehandyart Twitter: http://www.twitter.com/mikehandyart Tumblr: http://mikehandyart.tumblr.com Mike Handy Art joined Society6 on July 19, 2012
More
I'm a professional graphic designer with a lifelong background in fine art, but my true love has always been illustrating really weird and random things. Combined with my love for geeky pop culture, I decided to pursue a career in illustration as it seemed like the perfect showcase for all the strange ideas rolling around in my head.
Website: http://www.mikehandyart.com Redbubble Store: http://www.redbubble.com/people/mikehandyart Teepublic Store: https://www.teepublic.com/user/mikehandyart Facebook: http://www.facebook.com/mikehandyart Twitter: http://www.twitter.com/mikehandyart Tumblr: http://mikehandyart.tumblr.com
Mike Handy Art joined Society6 on July 19, 2012.
Bedding by Mike Handy Art
574 results
Filter
Department

Dept

Pillows & Bedding