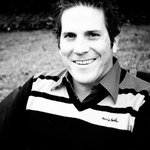 Mike Harder
"As an artist, I feel it is important to not fill in all of the information, to leave a bit to the imagination." Mike Harder finds his artistic inspiration in his love of sports and pop culture. A lifelong athlete and product of the 80s, Harder's style has been influenced by artist LeRoy Neiman. The subjects of Harder's paintings come from his uncommon perspective on the everyday experiences and symbols he embraces and values, be it a sports hero, the American flag, or a simple object interpreted with a bold twist. Self-taught acrylic painter whose brush strokes create texture, intense stylized color, movement and action. Mr. Harder has sold paintings to art enthusiasts across the US. He has fans in Asia, Europe and both Americas. His original painting of the Broncos/Raiders rivalry at Invesco Field hangs at the Denver Bronco organization Dove Valley headquarters. Floyd Little, NFL Hall of Fame Inductee, College Football Hall of Fame member and Denver Bronco Ring of Fame member is the proud owner of "Floyd." Mr. Little stated that "Floyd" is the "greatest gift he has ever received." Mike Harder joined Society6 on April 9, 2013
More
"As an artist, I feel it is important to not fill in all of the information, to leave a bit to the imagination."
Mike Harder finds his artistic inspiration in his love of sports and pop culture. A lifelong athlete and product of the 80s, Harder's style has been influenced by artist LeRoy Neiman. The subjects of Harder's paintings come from his uncommon perspective on the everyday experiences and symbols he embraces and values, be it a sports hero, the American flag, or a simple object interpreted with a bold twist.
Self-taught acrylic painter whose brush strokes create texture, intense stylized color, movement and action. Mr. Harder has sold paintings to art enthusiasts across the US. He has fans in Asia, Europe and both Americas. His original painting of the Broncos/Raiders rivalry at Invesco Field hangs at the Denver Bronco organization Dove Valley headquarters. Floyd Little, NFL Hall of Fame Inductee, College Football Hall of Fame member and Denver Bronco Ring of Fame member is the proud owner of "Floyd." Mr. Little stated that "Floyd" is the "greatest gift he has ever received."
Mike Harder joined Society6 on April 9, 2013.