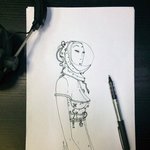 Sardine
I am a Homo sapien, a writer, a comic artist and a fierce windmill slayer trying to get a hold of a banana in a world governed by apes ... Self-taught illustrator, t-shirt designer, Geisha and Mecha addict. Buy my stuff so I can make more art ;-}) Sardine joined Society6 on August 29, 2013
More
I am a Homo sapien, a writer, a comic artist and a fierce windmill slayer trying to get a hold of a banana in a world governed by apes ...
Self-taught illustrator, t-shirt designer, Geisha and Mecha addict.
Buy my stuff so I can make more art ;-})
Sardine joined Society6 on August 29, 2013.