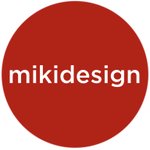 mikidesign co.
Modern designer who lived in Japan, France, Switzerland, Denmark, Italy and California, before settling down in beautiful Portland, Oregon. Alma Mater: ArtCenter College Of Design, Pasadena, California.
Creative influences: Vassily Kandinsky, Juan Miro, Victor Vasarely, Keith Haring, Yayoi Kusama, Bauhaus, Ukuyo-E, Japanese paper-making, stained glass, and the immense beauty of Nature.
Interests: architecture, photography, culinary experiences, wine tasting, classical and jazz music, pets, travel.
Favorite destinations: Paris, Kyoto, Hanalei, Kamuela.
Philanthropy: we actively support our community, and donate a significant portion of our art sale earnings to worthy causes. To name a few: Leukemia and Lymphoma Society, National MS Society, Union of Concerned Scientists, Human Rights Campaign, Sierra Club, as well as planting trees to combat the Climate Crisis.
Read more
mikidesign co.'s Store
Filter