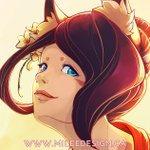 Milee Design
My name is Émilie Dore. I'm a Canadian artist living in Québec.
I've been doing mainly digital art for 10 years. I bought my first Wacom and fell in love with all the possibilities. Just needed one or two programs, no extra tools to buy, all in one space. I never had a course to teach me the efficient way of digital painting. I've learned mostly by myself until 2014. During that year, I discovered and exchange with people all around the world about technic and tips. Young people don't realize that today the internet is full of talented artists who openly share their skills. When I started, it was not easy to have access to such knowledge. I think I could have gotten sooner to a decent level of creation if I had this chance in the beginning.
With my recent return to school, I rediscover the pleasure and genuine tension of traditional work. You don't have the magical key of CTRL+Z in real life ,and it's a real struggle. Though I discovered another type of satisfaction when I can fulfill something away for my computer. I wish to work more with old-fashioned artwork and bring my fresh energy to it.
I am currently a freelance illustrator and in my last semester at school to earn my College degree in Visual Arts.
Read more
Milee Design's Store
24 results
Filter