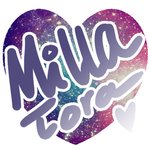 MillaTora
I'm a culturally confused adult who still gets mistaken for a teenager and asked for ID on a regular basis. I collect sneakers and star wars t-shirts and in my spare time I create art all for my own personal gratification. I try to deal with HAVING TO PAY SO MANY BILLS, BUT I CAN'T. So please buy some things. Help me out!! Thanks for taking the time to have a look! I appreciate it so much! XOXOXOXO -Milla. DeviantArt: http://millatora.deviantart.com/ Tumblr: http://millatora.tumblr.com/ MillaTora joined Society6 on September 6, 2013
More
I'm a culturally confused adult who still gets mistaken for a teenager and asked for ID on a regular basis. I collect sneakers and star wars t-shirts and in my spare time I create art all for my own personal gratification. I try to deal with HAVING TO PAY SO MANY BILLS, BUT I CAN'T. So please buy some things. Help me out!!
Thanks for taking the time to have a look! I appreciate it so much!
XOXOXOXO -Milla.
DeviantArt: http://millatora.deviantart.com/ Tumblr: http://millatora.tumblr.com/
MillaTora joined Society6 on September 6, 2013.
MillaTora's Store
33 results
Filter