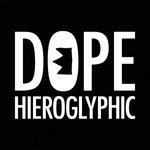 DOPE HIEROGLYPHIC by mimc03
Part of a larger collection of work curated under a new series branded DOPE HIEROGLYPHIC. In it, Michael draws his inspiration from many sources including music, movies and urban culture.
Michael has spent the past 20 years defining his style of paint, collage and ink transfer. The featured pieces contain abstract expressions using acrylics applied to canvas as well as precision crafted collages created using photography and digital manipulation applied to wood panel.
Read more
DOPE HIEROGLYPHIC by mimc03's Store
68 results
Filter