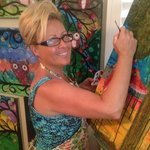 MiMi Stirn - The Owl Chick
About MiMi Stirn My early works began in the late 80's, mainly sketches using coal and colored pencils. In 1996 I began working with oils and acrylics in a folk art style with subjects including animal miniatures, farms, flowers, trees, and field animals. I completed several murals during this time. In 2010, my husband and I moved to Cape Coral Florida from Washington State. I was inspired to change my artistic styling from folk art to abstract works with focus on ample, bold colors. The beautiful sunrise, sunsets, and of course, the cute burrowing owls, native to our area, opened the door rekindle my passion for painting and expand my art skills. Additional inspiration comes from years of traveling as a military brat and spouse. I have been blessed to see the beautiful landscapes and wildlife from growing-up in Guam, Louisiana, Germany, New Mexico, and Washington. In 2011, after 2 years of practicing with multiple medias and subject matter, including a short jaunt painting tropical landscapes, I turned my attention and focus on abstract color techniques including blending, staining, subtractive processes, and of course owls. All artwork is on gallery wrapped canvas, ranging from 12" X 36" up to 60" x 60". Hoolandia © consist of several series with paintings depicting The Four Seasons, Couples, The Family Tree, Half-a-Hoot, and Contrasts. For 2014 new works include "Hoo's" City, "Hoo" Photobomb, "Hoo" Owl Tree of Life, and "Hoo" Punk-Steam Punk. The Hoolandia © concept began in January of 2013 when I was inspired while observing a burrowing owl nest in my neighborhood during a sunrise. I later named the little owl "Traffic" and he is still out on his/her perch every morning - I adore him. I devote my free time to painting and continuing education in the field of art. Art provides hours of therapy outside of owning my own consulting business. I have an AAB in Business Administration and I am also a Certified Business Analyst with the Florida Small Business Development Centers (FSBDC). I have two sons, one of which is serving in the US Army and the other lives in Texas. My husband and I are looking forward to grandchildren and enjoying our new lives in Florida. I also am an avid paddle boarder, acoustic guitarist, and enjoy cooking. Mastering the art of color and nature is my first passion and I am elated to share my artwork with you. Cheers, MiMi Stirn MiMi Stirn - The Owl Chick joined Society6 on January 4, 2015
More
About MiMi Stirn
My early works began in the late 80's, mainly sketches using coal and colored pencils. In 1996 I began working with oils and acrylics in a folk art style with subjects including animal miniatures, farms, flowers, trees, and field animals. I completed several murals during this time. In 2010, my husband and I moved to Cape Coral Florida from Washington State. I was inspired to change my artistic styling from folk art to abstract works with focus on ample, bold colors. The beautiful sunrise, sunsets, and of course, the cute burrowing owls, native to our area, opened the door rekindle my passion for painting and expand my art skills. Additional inspiration comes from years of traveling as a military brat and spouse. I have been blessed to see the beautiful landscapes and wildlife from growing-up in Guam, Louisiana, Germany, New Mexico, and Washington.
In 2011, after 2 years of practicing with multiple medias and subject matter, including a short jaunt painting tropical landscapes, I turned my attention and focus on abstract color techniques including blending, staining, subtractive processes, and of course owls. All artwork is on gallery wrapped canvas, ranging from 12" X 36" up to 60" x 60".
Hoolandia © consist of several series with paintings depicting The Four Seasons, Couples, The Family Tree, Half-a-Hoot, and Contrasts. For 2014 new works include "Hoo's" City, "Hoo" Photobomb, "Hoo" Owl Tree of Life, and "Hoo" Punk-Steam Punk. The Hoolandia © concept began in January of 2013 when I was inspired while observing a burrowing owl nest in my neighborhood during a sunrise. I later named the little owl "Traffic" and he is still out on his/her perch every morning - I adore him.
I devote my free time to painting and continuing education in the field of art. Art provides hours of therapy outside of owning my own consulting business. I have an AAB in Business Administration and I am also a Certified Business Analyst with the Florida Small Business Development Centers (FSBDC). I have two sons, one of which is serving in the US Army and the other lives in Texas. My husband and I are looking forward to grandchildren and enjoying our new lives in Florida. I also am an avid paddle boarder, acoustic guitarist, and enjoy cooking. Mastering the art of color and nature is my first passion and I am elated to share my artwork with you.
Cheers, MiMi Stirn
MiMi Stirn - The Owl Chick joined Society6 on January 4, 2015.
MiMi Stirn - The Owl Chick's Store
140 results
Filter