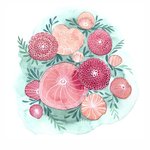 minartillust
Thank you for your interest and support about my illustrations! ​ Watercolour art is a beautiful way that we can connect with the beauty of nature and realize our dominant nature toward the world around. Art has made my world colorful and when I connect to others through my work, it is all the pleasent gifts and inspiring. I hope you enjoy my artworks as much as I've enjoyed painting them. Thanks for visiting my illustration world! ​ Watercolor Illustrator Mina Park To see my artworks more, visit my Instagram account https://www.instagram.com/minartillust ​ Thank you ​ minartillust joined Society6 on November 18, 2016
More
Thank you for your interest and support about my illustrations! ​
Watercolour art is a beautiful way that we can connect with the beauty of nature and realize our dominant nature toward the world around.
Art has made my world colorful and when I connect to others through my work, it is all the pleasent gifts and inspiring.
I hope you enjoy my artworks as much as I've enjoyed painting them.
Thanks for visiting my illustration world!
​ Watercolor Illustrator Mina Park
To see my artworks more, visit my Instagram account
https://www.instagram.com/minartillust
​
Thank you
​
minartillust joined Society6 on November 18, 2016.