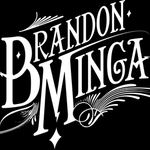 MINGAdigm
Machines.
There's just something about them. Moving gears, robotic functionality, structure in motion. Bits and parts winding, cranking and coalescing in perfect harmony to become something greater. Inert materials fused in dynamic kinesis. How things work and how they relate to one another to engineer the world around us has always fascinated me. This innate curiosity for invention and utility drives me to tinker and examine and deconstruct in order to discover the true nature of existence…and then forge it into something new.
As an artist, my reverence for constitution and function electrifies my creative sensibilities, leading me to find inspiration in all things mechanical, from industrial architecture and historical mechanisms to the greatest machine of all—the human body. Through innovative uses of collage and assemblage, I seek to explore the parallels between technology, the human environment and the mortal condition. Layering wood, paint, graphite, paper, giclée prints and found objects together into beautifully intricate compositions, I meld nature and artifice into surreal worlds of organic automatons and living structure. I want to know what makes things tick, and find ways to make them tick in an unexpected, yet inspiring new way.
Taking apart my environment and my being to discover their inner workings and all the moving parts beneath, then reconnecting the pieces in new configurations to create living, breathing machines of high art. That's how I work.
Read more
Prints by MINGAdigm
Filter