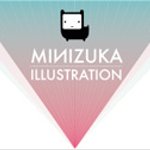 MINIZUKA
My name is Paola Garrido a.k.a. MINIZUKA I'm an illustrator and monster creator. (short surreal bio) Hi, i'm a light bulb burner, most of my days, also use my damaged light bulbs to feed my addiction for Photography, strange words soups (kind of non-real stories), Illustration, Altering reality, Music and reading others days, basically learning from you, so thanx According to my date of birth (january 10) i'm supposed to be a fatalist… well, probably that's kind of truth, but it's also truth that i love defeating the future, so when life is using me as his puppet of self-destruction i call my toys soldiers and charged their weapons with chimeras. MINIZUKA joined Society6 on September 30, 2013
More
My name is Paola Garrido a.k.a. MINIZUKA I'm an illustrator and monster creator.
(short surreal bio) Hi, i'm a light bulb burner, most of my days, also use my damaged light bulbs to feed my addiction for Photography, strange words soups (kind of non-real stories), Illustration, Altering reality, Music and reading others days, basically learning from you, so thanx
According to my date of birth (january 10) i'm supposed to be a fatalist… well, probably that's kind of truth, but it's also truth that i love defeating the future, so when life is using me as his puppet of self-destruction i call my toys soldiers and charged their weapons with chimeras.
MINIZUKA joined Society6 on September 30, 2013.