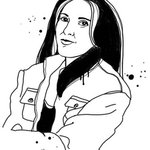 Minky Stapleton
Minky Stapleton (nee Marike Venter) is an illustrator originally Johannesburg, South Africa and now based in Sydney, Australia. She spent her formative years honing her conceptual skills as an art director, and later as an Creative Director, in some of the best agencies in South Africa. After having children she gave up the high glamour of long meetings and late-night shoots to follow her first love, illustration. Minky Stapleton joined Society6 on November 9, 2013
More
Minky Stapleton (nee Marike Venter) is an illustrator originally Johannesburg, South Africa and now based in Sydney, Australia.
She spent her formative years honing her conceptual skills as an art director, and later as an Creative Director, in some of the best agencies in South Africa. After having children she gave up the high glamour of long meetings and late-night shoots to follow her first love, illustration.
Minky Stapleton joined Society6 on November 9, 2013.
Minky Stapleton's Store
22 results
Filter