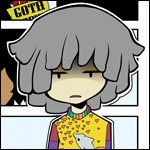 Minor Acts Of Heroism
This is a very new, and very cool shop for some neato Minor Acts of Heroism merchandise! I you don't know what Minor Acts of Heroism is, it's a comic about 3 kids who are friends, and also superheroes! You can check it out at: www.minoractsofheroism.com Minor Acts Of Heroism joined Society6 on February 7, 2013
More
This is a very new, and very cool shop for some neato Minor Acts of Heroism merchandise!
I you don't know what Minor Acts of Heroism is, it's a comic about 3 kids who are friends, and also superheroes!
You can check it out at: www.minoractsofheroism.com
Minor Acts Of Heroism joined Society6 on February 7, 2013.
Minor Acts Of Heroism's Store
18 results
Filter