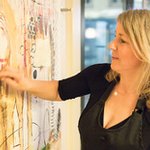 Miranda van den Heuvel
Life's too short to spend it on things that don't really matter to you. Being creative is part of feeling alive. Building on that creativity, people can live in ways that feel good – and be involved in work that does good. That was the inspiration for Create & Connect, founded by Miranda van den Heuvel in 2010.
Combining over 20 years of experience in marketing, sales, and event organization with a creative yet practical approach to her work, Miranda helps entrepreneurs and creatives shift mind sets in a short amount of time. Her Creative Workshops and Coaching Sessions serve to re-activate creative flow and idea generation.
A skilled life coach (Accredited Practitioner Coach (IIC&M), Miranda uses breakthrough techniques, practical tools and creative systems to allow people to immediately start creating their lives and see results. Through her Create Your Life Retreats and Create Your Life Steps Coaching Program, she has inspired many women to create a life of meaning and purpose. Coaching and training people is her true passion.
Read more
Miranda van den Heuvel's Store
Filter