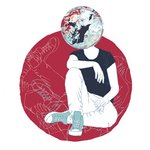 Mireia Mullor
Hi! My name is Mireia Mullor, I'm Graduated in illustration of Product and Textile Product. I like to express myself with mixing different techniques and concepts, using illustration , photography, video and fashion. | Web Site: www.mireiamullor.es | Instagram: instagram.com/mireia_mullor | Twitter: twitter.com/mireia_mullor | facebook: facebook/Mireia-Mullor | Mireia Mullor joined Society6 on December 15, 2014
More
Hi! My name is Mireia Mullor, I'm Graduated in illustration of Product and Textile Product.
I like to express myself with mixing different techniques and concepts, using illustration , photography, video and fashion.
| Web Site: www.mireiamullor.es | Instagram: instagram.com/mireia_mullor | Twitter: twitter.com/mireia_mullor | facebook: facebook/Mireia-Mullor |
Mireia Mullor joined Society6 on December 15, 2014.