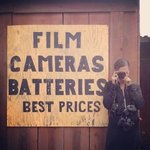 Misha Ashton-Moore
Abstract film photography by Misha Ashton-Moore. Photos of amusement parks, flowers and bridges. Travel photos from New York, Los Angeles, San Francisco, Italy, Paris, London, and Japan. - - - I am a self-taught photographer working with 35mm film. My images are printed exactly as they turn out in an alternative developing process, they are not altered in any way. Instead of using Photoshop, I rely on obscure angles and the film developing process to create a unique and altered image. I find inspiration in the world around me, from ordinary day-to day scenery to broken and dilapidated objects. I am always challenging and pushing myself to progress my art by shooting with a variety of cameras and experimenting with different films and developing processes. My goal is to photograph the world, revealing it to you through my eyes. http://www.mishaashton.com - - - Also, check out my interview with Lomography http://www.lomography.com/magazine/lifestyle/2012/09/29/from-photo-to-book-meet-lomographer-misha-ashton-moore Misha Ashton-Moore joined Society6 on November 18, 2009
More
Abstract film photography by Misha Ashton-Moore. Photos of amusement parks, flowers and bridges. Travel photos from New York, Los Angeles, San Francisco, Italy, Paris, London, and Japan.
---
I am a self-taught photographer working with 35mm film. My images are printed exactly as they turn out in an alternative developing process, they are not altered in any way. Instead of using Photoshop, I rely on obscure angles and the film developing process to create a unique and altered image. I find inspiration in the world around me, from ordinary day-to day scenery to broken and dilapidated objects. I am always challenging and pushing myself to progress my art by shooting with a variety of cameras and experimenting with different films and developing processes. My goal is to photograph the world, revealing it to you through my eyes. http://www.mishaashton.com
---
Also, check out my interview with Lomography http://www.lomography.com/magazine/lifestyle/2012/09/29/from-photo-to-book-meet-lomographer-misha-ashton-moore
Misha Ashton-Moore joined Society6 on November 18, 2009.