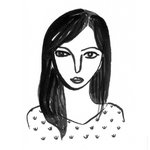 Misha Zadeh / Illustration & Design
Misha Zadeh is a graphic designer and illustrator living in Seattle. She likes long walks, French pastries, drawing with her husband and two boys, and brilliantly sunny days. Which makes you wonder why she loves her native Seattle quite so much... See more of her work at http://www.mishazadeh.com Art Directors and buyers can meet her at Surtex 2016 in NYC, Booth 527. Misha Zadeh / Illustration & Design joined Society6 on November 8, 2015
More
Misha Zadeh is a graphic designer and illustrator living in Seattle. She likes long walks, French pastries, drawing with her husband and two boys, and brilliantly sunny days. Which makes you wonder why she loves her native Seattle quite so much...
See more of her work at http://www.mishazadeh.com
Art Directors and buyers can meet her at Surtex 2016 in NYC, Booth 527.
Misha Zadeh / Illustration & Design joined Society6 on November 8, 2015.
Misha Zadeh / Illustration & Design's Store
10 results
Filter