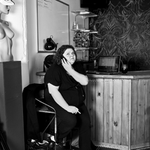 Missa Jones Photography
The 3rd eye is a tricky girl! She makes you see things that the normal eyes do not see. She shows the naked eye; beauty & creativity in things you would normally pass by. Slow your world down a little and take a look around... what do you see? Its an amazing thing, looking through a lens. Your whole world can change in an instant. Photography is in the eye of the beholder! Try to always think out side the box! Missa Jones Photography joined Society6 on October 14, 2013
More
The 3rd eye is a tricky girl! She makes you see things that the normal eyes do not see. She shows the naked eye; beauty & creativity in things you would normally pass by. Slow your world down a little and take a look around... what do you see?
Its an amazing thing, looking through a lens. Your whole world can change in an instant.
Photography is in the eye of the beholder!
Try to always think out side the box!
Missa Jones Photography joined Society6 on October 14, 2013.
Missa Jones Photography's Store
51 results
Filter