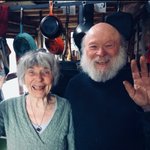 Kaaren Soby
"My life as an artist began with my childhood, when at the moment of awakening I ran to the window and threw it open with great anticipation to greet what each day had to offer. I remember a constant merging with nature and the overwhelming spacious blue prairie skies, lying on hay stacks engulfed in the fragrance of sweet grass, meadowlarks calling, gophers talking, rolling in hot mud and jumping in the cold green Highwood River. This is a mere sample of the rich texture of experiences that have made up the fabric of my life".
Painting, for Kaaren, followed in the heels of a semi professional career as a folksinger. She was led to the Forum Art Institute In Winnipeg, where she eventually became the full time canvass maker and "artist in residence". Kaaren was driven to paint, whether it be in courses or at home and has shown her art in Winnipeg ,Calgary and several Alberta towns, outdoor exhibitions and galleries.
In her early thirties she moved out to the bush in North Central BC with her family where her expressions manifested in learning the art of living off grid, educating her children at home and building their homestead. Later, Kaaren had showings in Hawaii where she spent many winters participating in a work exchange on a friends coffee farm. Living so close to nature allowed Kaaren and her partner to immerse themselves fully in meditation and communing with nature. She currently lives in BC and continues to be inspired to paint large abstract representations of leaves, flowers and all the Magic that Na8ure has to offer.
Read more
Kaaren Soby's Store
61 results
Filter