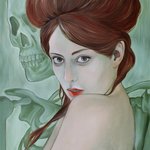 Martina Corradi http://www.martinacorra
Miss/Mirma / Martina Corradi si è diplomata in Grafica Pubblicitaria presso l'istituto d'arte A. Venturi di Modena. Ha conseguito la laurea in Pittura presso l'Accademia di Belle Arti di Bologna. Ha lavorato poi come visual designer//stilista presso l' ufficio stile di Alessandra Gandolfi per brand quali Guru, Ferrari e Lapin House. Tuttora lavora come visual designer per Gaudì Jeans and Style a Carpi (Modena). Ha partecipato a varie rassegne artistichei: :Arti Vive Festival Rock in Rolo Makkinoso vs Miss Mirma organizzata in collaborazione con Mondo Pop di Roma nello spazio di Teapot a Modena. Iconography of Mask alla Resistance Gallery di Londra. Pubblicazioni : Vizio Mag numero 3 Bang Art numero 5 di Dicembre Gold Frizzifrizzi Martina Corradi http://www.martinacorra joined Society6 on January 17, 2010
More
Miss/Mirma / Martina Corradi si è diplomata in Grafica Pubblicitaria presso l'istituto d'arte A. Venturi di Modena. Ha conseguito la laurea in Pittura presso l'Accademia di Belle Arti di Bologna. Ha lavorato poi come visual designer//stilista presso l' ufficio stile di Alessandra Gandolfi per brand quali Guru, Ferrari e Lapin House. Tuttora lavora come visual designer per Gaudì Jeans and Style a Carpi (Modena). Ha partecipato a varie rassegne artistichei: :Arti Vive Festival Rock in Rolo Makkinoso vs Miss Mirma organizzata in collaborazione con Mondo Pop di Roma nello spazio di Teapot a Modena. Iconography of Mask alla Resistance Gallery di Londra.
Pubblicazioni : Vizio Mag numero 3 Bang Art numero 5 di Dicembre Gold Frizzifrizzi
Martina Corradi http://www.martinacorra joined Society6 on January 17, 2010.
Canvas by Martina Corradi http://www.martinacorra
18 results
Filter