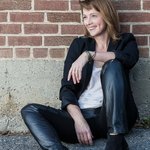 Sarah Jaynes
The wildlife of Eastern Ontario has always inspired Canadian artist, Sarah Jaynes. From her cabin in the woods on the banks of the Mississippi River, Sarah takes in the breathtaking wilderness; turning this inspiration into stunningly lifelike charcoal drawings. Examining the textures and personalities of Eastern Ontario wildlife and Lanark County farm animals, Sarah offers an original take at Canadiana pride. Her work is an unexpected mix of classical drawing techniques and spray paint - but then again, unconventional style and hands-on techniques have always been her trademark. As a veteran high school art teacher Sarah pours her passion into fostering creativity in all forms. You can contact her and follow her creative adventures here. Instagram @mississippinorth etsy.com/shop/mississippinorth Sarah Jaynes joined Society6 on November 15, 2016
More
The wildlife of Eastern Ontario has always inspired Canadian artist, Sarah Jaynes. From her cabin in the woods on the banks of the Mississippi River, Sarah takes in the breathtaking wilderness; turning this inspiration into stunningly lifelike charcoal drawings. Examining the textures and personalities of Eastern Ontario wildlife and Lanark County farm animals, Sarah offers an original take at Canadiana pride. Her work is an unexpected mix of classical drawing techniques and spray paint - but then again, unconventional style and hands-on techniques have always been her trademark. As a veteran high school art teacher Sarah pours her passion into fostering creativity in all forms.
You can contact her and follow her creative adventures here. Instagram @mississippinorth etsy.com/shop/mississippinorth
Sarah Jaynes joined Society6 on November 15, 2016.