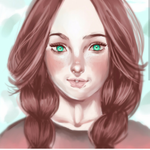 Misskayla.ink
Hi! Im misskayla.ink from instagram,here on society6 you can buy my art work. If you have any questions please go to instagram and either message me there or click on my email box that is available on Instagram also. Thank you visting my page!☺ Misskayla.ink joined Society6 on October 7, 2016
More
Hi! Im misskayla.ink from instagram,here on society6 you can buy my art work. If you have any questions please go to instagram and either message me there or click on my email box that is available on Instagram also.
Thank you visting my page!☺
Misskayla.ink joined Society6 on October 7, 2016.