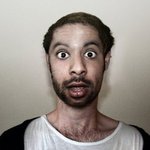 Richard Baker
Hello! I am an illustrator currently working in Brighton. My illustration is a result of a disturbed imagination and intricate penmanship - pulled together through an eclectic style of digital design and hand-drawn manipulation. Working primarily on editorial, fashion and music related projects I'm always open for commissions and collaboration. If you would like to talk about any future ideas then please get in touch. mrbakerillustration@gmail.com mrbaker.co.uk Richard Baker joined Society6 on August 28, 2011
More
Hello! I am an illustrator currently working in Brighton. My illustration is a result of a disturbed imagination and intricate penmanship - pulled together through an eclectic style of digital design and hand-drawn manipulation. Working primarily on editorial, fashion and music related projects I'm always open for commissions and collaboration. If you would like to talk about any future ideas then please get in touch.
mrbakerillustration@gmail.com
mrbaker.co.uk
Richard Baker joined Society6 on August 28, 2011.
Prints by Richard Baker
3 result
Filter