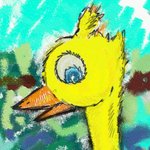 misterwackydoodle
Mainly I'm a painter, though like most I do some stuff in other media. I started with exclusively oil paintings, in a semi-abstract impressionist style. Nowadays I've been doing a fair bit of watercolors and acrylics, because I can complete them much faster, and trying to get to where my style with other media is recognizably similar to my oil painting style, which I'm rather pleased with. My artwork focuses on multiply interpretable (ambiguous) images, and rich textures which lend themselves to pareidolia -- seeing things that aren't necessarily intended to be there. I call my artwork 'the art of the wandering mind' and it is a sort of generalization of the process of doodling to other media. I let my mind wander as I paint and in the complex textures that result frequently discover, unintended, quite recognizable images have come from the subconscious process of painting at length but without deliberate intent. I refer to my art as semi-abstract rather than purely abstract because I frequently will define a couple of the images I see forming in the chaos with deliberate lines, and also sometimes use a general structured composition, but then fill it with abstract meanderings. The overall effect is rather similar to impressionist styles, but I'm coming at it from a rather different direction (more similar to expressionism) -- there's almost never a real thing I'm looking at to take an impression of -- but I use the term because the end result gives the impression of impressionism. https://www.facebook.com/pages/Mr-Wacky-Doodle/174247712637764 misterwackydoodle joined Society6 on April 10, 2014
More
Mainly I'm a painter, though like most I do some stuff in other media. I started with exclusively oil paintings, in a semi-abstract impressionist style. Nowadays I've been doing a fair bit of watercolors and acrylics, because I can complete them much faster, and trying to get to where my style with other media is recognizably similar to my oil painting style, which I'm rather pleased with. My artwork focuses on multiply interpretable (ambiguous) images, and rich textures which lend themselves to pareidolia -- seeing things that aren't necessarily intended to be there. I call my artwork 'the art of the wandering mind' and it is a sort of generalization of the process of doodling to other media. I let my mind wander as I paint and in the complex textures that result frequently discover, unintended, quite recognizable images have come from the subconscious process of painting at length but without deliberate intent. I refer to my art as semi-abstract rather than purely abstract because I frequently will define a couple of the images I see forming in the chaos with deliberate lines, and also sometimes use a general structured composition, but then fill it with abstract meanderings. The overall effect is rather similar to impressionist styles, but I'm coming at it from a rather different direction (more similar to expressionism) -- there's almost never a real thing I'm looking at to take an impression of -- but I use the term because the end result gives the impression of impressionism.
https://www.facebook.com/pages/Mr-Wacky-Doodle/174247712637764
misterwackydoodle joined Society6 on April 10, 2014.