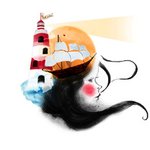 Mittenbunny
Hi, welcome to my store. My name is Sarah. I'm an artist, story teller and illustrator living in sunny Sydney. My visual interest mostly working with infant design. I'm inspired by folklore, fairy tales, animals and many more. Other inspirations? Mostly Pop Culture and my appreciation on iconic characters in movies and books. On a normal day you can find me sipping milk tea while doodling illustrations for galleries, children picture book and for my Etsy shop Thanks for stopping by ❤ www.sarahwulan.com Mittenbunny joined Society6 on January 31, 2015
More
Hi, welcome to my store. My name is Sarah.
I'm an artist, story teller and illustrator living in sunny Sydney.
My visual interest mostly working with infant design. I'm inspired by folklore, fairy tales, animals and many more. Other inspirations? Mostly Pop Culture and my appreciation on iconic characters in movies and books.
On a normal day you can find me sipping milk tea while doodling illustrations for galleries, children picture book and for my Etsy shop
Thanks for stopping by ❤
www.sarahwulan.com
Mittenbunny joined Society6 on January 31, 2015.