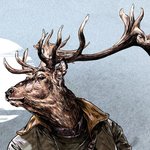 Mitt Roshin
Freelance illustrator from Russia, currently based in London, UK. Worked in creative industries, took a focus on illustration in 2013. Interested in all types of collaboration, so please don't hesitate to contact me if you have any ideas or projects going on. my Behance page: https://www.behance.net/MittRoshin my facebook: https://www.facebook.com/ilya.mitroshin Mitt Roshin joined Society6 on December 9, 2014
More
Freelance illustrator from Russia, currently based in London, UK. Worked in creative industries, took a focus on illustration in 2013. Interested in all types of collaboration, so please don't hesitate to contact me if you have any ideas or projects going on.
my Behance page: https://www.behance.net/MittRoshin my facebook: https://www.facebook.com/ilya.mitroshin
Mitt Roshin joined Society6 on December 9, 2014.