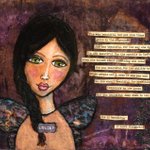 mixedmediabyjenni
I don't consider myself an artist...I feel I am more God's paintbrush, meant to share his message of love and hope to those who see my work and read my words. I'm an RN by day and a newer (since 2014), self-taught mixed media artist who loves experimenting with new mediums by night when I'm not spending time with my husband, two young boys, three horses, two cats, and a dog. You can find me and my writings at www.mixedmediabyjenni.com. mixedmediabyjenni joined Society6 on March 22, 2018
More
I don't consider myself an artist...I feel I am more God's paintbrush, meant to share his message of love and hope to those who see my work and read my words.
I'm an RN by day and a newer (since 2014), self-taught mixed media artist who loves experimenting with new mediums by night when I'm not spending time with my husband, two young boys, three horses, two cats, and a dog. You can find me and my writings at www.mixedmediabyjenni.com.
mixedmediabyjenni joined Society6 on March 22, 2018.