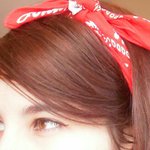 Miyu Arkatz
Hi friend, thank you for visiting my artwork. We can keep in touch in Twitter (@Patri_ilustra) and Facebook (@PatriciaFidalgoArt). If you want something special or customizing any product, just contact me in Fb, Twitter, my email pfidalgoilustracion@hotmail.com, or go to patriciafidalgoilustracion.wordpress.com Have a nice day! :) Miyu Arkatz joined Society6 on September 2, 2014
More
Hi friend,
thank you for visiting my artwork. We can keep in touch in Twitter (@Patri_ilustra) and Facebook (@PatriciaFidalgoArt).
If you want something special or customizing any product, just contact me in Fb, Twitter, my email pfidalgoilustracion@hotmail.com, or go to patriciafidalgoilustracion.wordpress.com
Have a nice day! :)
Miyu Arkatz joined Society6 on September 2, 2014.