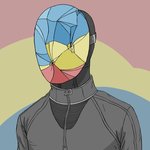 MJ DiLorenzo
MJ DiLorenzo is an illustrator/cartoonist currently living in New York. She holds a bachelors degree in fine art and occasionally puts it down to hold cups of coffee and copic pens. Inspired heavily by science and nature, MJ strives to create work that is both lighthearted and playful, while all the while alluding to a deeper idea of harmony in the world through art. She is a traditional artist raised on ink and paper. http://www.troublemarker.com/ MJ DiLorenzo joined Society6 on November 24, 2014
More
MJ DiLorenzo is an illustrator/cartoonist currently living in New York. She holds a bachelors degree in fine art and occasionally puts it down to hold cups of coffee and copic pens. Inspired heavily by science and nature, MJ strives to create work that is both lighthearted and playful, while all the while alluding to a deeper idea of harmony in the world through art. She is a traditional artist raised on ink and paper.
http://www.troublemarker.com/
MJ DiLorenzo joined Society6 on November 24, 2014.
MJ DiLorenzo's Store
122 results
Filter