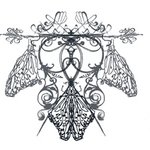 Marilyne Lafrontiere Mla.designs
I am a North east textile designer dedicated to creating unique and delicate artwork in various media. My artwork itself corresponds to the emotions and imaginations trough photographs of my inspiration and also trough a lot of movie viewing. The liner and water based backgrounds complement each other in the best way possible. Whilst in England, I had studied at Newcastle college and hit the big time at CCAD. By illustrating nature at its best, as delicateness shows true style which came naturally to me. Designers that mainly influence me are Alexander Mc Queen, Lesage and Louis Vuitton by their delicate designs which you can clearly see the influence as my designs are mostly floral and embellished embroidery. On my visit to my home country France via Paris, I was inspired by the nature and my surroundings. Taking an astonishing 2000 photographs, its clear to se how inspiring my home country is to me. Taking the time out to take photos helped me energise my projects which also keep my original style. Painterly patterns and details drawings are the main factor to my style which will stay with me forever. Marilyne Lafrontiere Mla.designs joined Society6 on July 30, 2013
More
I am a North east textile designer dedicated to creating unique and delicate artwork in various media. My artwork itself corresponds to the emotions and imaginations trough photographs of my inspiration and also trough a lot of movie viewing. The liner and water based backgrounds complement each other in the best way possible.
Whilst in England, I had studied at Newcastle college and hit the big time at CCAD.
By illustrating nature at its best, as delicateness shows true style which came naturally to me. Designers that mainly influence me are Alexander Mc Queen, Lesage and Louis Vuitton by their delicate designs which you can clearly see the influence as my designs are mostly floral and embellished embroidery.
On my visit to my home country France via Paris, I was inspired by the nature and my surroundings. Taking an astonishing 2000 photographs, its clear to se how inspiring my home country is to me. Taking the time out to take photos helped me energise my projects which also keep my original style.
Painterly patterns and details drawings are the main factor to my style which will stay with me forever.
Marilyne Lafrontiere Mla.designs joined Society6 on July 30, 2013.
Marilyne Lafrontiere Mla.designs's Store
185 results
Filter