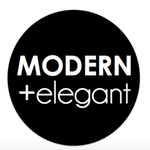 MODERN+elegant
MODERN + elegant is a shop for the sophisticated home and work place.
At MODERN + elegant, you will find clean and bold forms merged with classic beauties; rich textures and sharp details. You will find opportunities to worship the architectural genius and the sophisticated craftsman. We hope these works of Art will create a clean and simplistic environment, that will elevate a sense of beauty and purpose in your life.
All works of Art are executed by Artist and Art Teacher, D. Garigliano, in an effort to celebrate historical achievements, while providing a serene and timeless appearance. With charcoal and oil paint, Ms. Garigliano, executes various subjects meticulously.
Read more
MODERN+elegant's Store
54 results
Filter