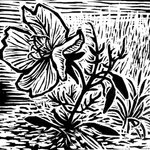 Mollie Doctrow Woodcuts
Slogging through swamps, wading through weeds, and getting off the beaten path inspires my woodcuts and environmental projects. Creating "portraits" of plant and habitat communities, I seek to communicate a shared sense of place, appreciation for its beauty, and foster ecological awareness.
The woodcut process begins with field sketches of natural places. The sketches are then transferred to woodblocks and the final image is completed during the carving process. Carved blocks are printed with water-based ink on Japanese kozo paper. Each original woodblock print is hand-pulled in the artist's studio using an etching press.
Read more
Mollie Doctrow Woodcuts's Store
Filter