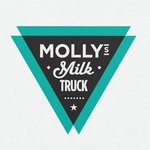 Molly's Milk Truck
Started by three twenty-something year old's, Molly's Milk Truck is a true gem. With the courage to leave corporate America behind them, Hoda, Jason and Brian combined their business and culinary skills to form this food revolution known as Molly's. Molly's team is comprised of people who strived to make their own way, and create their own paths. The dream team stood behind their motto: If you haven't found your passion yet - keep looking. Don't settle, stay hungry. Now, it's up to the community to explore our food, support our small business by purchasing merch, and come by the food truck for free advice and healthy affordable food! Chatting and chewing since 2011! Find us at the following sites: http://mollysmilktruck.com/ https://www.facebook.com/MollysMilkTruck https://twitter.com/mollysmilktruck http://mollysmilktruck.tumblr.com/ http://instagram.com/mollysmilktruck/ http://pinterest.com/mollysmilktruck/ Email us at orders@mollysmilktruck.com for partnership opportunities, questions or comments! We LOVE hearing from you! Molly's Milk Truck joined Society6 on June 18, 2012
More
Started by three twenty-something year old's, Molly's Milk Truck is a true gem. With the courage to leave corporate America behind them, Hoda, Jason and Brian combined their business and culinary skills to form this food revolution known as Molly's. Molly's team is comprised of people who strived to make their own way, and create their own paths. The dream team stood behind their motto: If you haven't found your passion yet - keep looking. Don't settle, stay hungry. Now, it's up to the community to explore our food, support our small business by purchasing merch, and come by the food truck for free advice and healthy affordable food! Chatting and chewing since 2011! Find us at the following sites:
http://mollysmilktruck.com/ https://www.facebook.com/MollysMilkTruck https://twitter.com/mollysmilktruck http://mollysmilktruck.tumblr.com/ http://instagram.com/mollysmilktruck/ http://pinterest.com/mollysmilktruck/
Email us at orders@mollysmilktruck.com for partnership opportunities, questions or comments! We LOVE hearing from you!
Molly's Milk Truck joined Society6 on June 18, 2012.
Molly's Milk Truck's Store
21 results
Filter