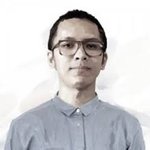 Mondododo
Born in 1984, I has fortunately spent most of my life in a beautiful place called Bandung, Indonesia. An architect who loves to design spaces that embody ways to feel healthy, happy, and well in the 21st Century. A creativist person and always passionate about creating a smarter business projects. My favorite music comes from anything from lounge to post rock. Architect, Conceptor & Artist by day… Blogger and Chatter by night… Good boyfriend and fan of the culinary food by weekend… Always talk about a toolbox of random everyday… Mondododo joined Society6 on November 10, 2014
More
Born in 1984, I has fortunately spent most of my life in a beautiful place called Bandung, Indonesia. An architect who loves to design spaces that embody ways to feel healthy, happy, and well in the 21st Century. A creativist person and always passionate about creating a smarter business projects. My favorite music comes from anything from lounge to post rock.
Architect, Conceptor & Artist by day… Blogger and Chatter by night… Good boyfriend and fan of the culinary food by weekend… Always talk about a toolbox of random everyday…
Mondododo joined Society6 on November 10, 2014.