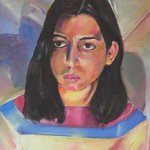 Monica Alisse
I am a 2009 graduate from Rhode Island School of Design, with a BFA in Graphic Design. I also recently earned a Masters degree in Design from the Design Academy of Eindhoven in The Netherlands. I was born in New York, but grew up traveling to many countries, such as Spain, England, and Japan once upon a time.
I enjoy adapting to different cultures, which I believe aids me into developing more skills for my profession as a Designer.
You may view my store here: http://society6.com/MonicaAlisse.
Regards, Monica
Personal Website: http://www.monicaalisse.com Fine Arts Blog: http://www.monicaalisse-finearts.tumblr.com LinkedIn: http://www.linkedin.com/in/monicaalisse Twitter: @monicaalisse
Read more